The Latina Femme Promise of Vulnerability and Access
Review of Juana María Rodríguez, Sexual Futures, Queer Gestures, and Other Latina Longings (2014).
Keywords:
review, Juana María Rodríguez, Queer Gestures
Abstract
Preview of the text:
Can an encounter with an academic book feel like a deliciously queer one-night stand, outside of the confines of your semi-orderly life and leave you glowing with enthusiasm, satisfied, and yet eager for the promise of more? Can a review be an amorous gesture, a simple pleasurable yes? In the spirit of scholarly respectability, we tend to assume a review should involve some form of cooled off distance, a cautionary and critical no. Yet, if as Rita Felski (2015) contends, there are limits to critique, then a piece of (queer) scholarly writing, like a work of art, could move a reader beyond simple identification or recognition.
Downloads
Download data is not yet available.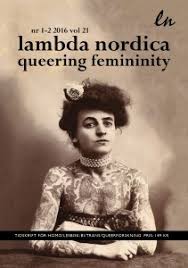 How to Cite
Dahl, U. (2018). The Latina Femme Promise of Vulnerability and Access: Review of Juana María Rodríguez, Sexual Futures, Queer Gestures, and Other Latina Longings (2014). Lambda Nordica, 21(1-2), 191-196. Retrieved from https://www.lambdanordica.org/index.php/lambdanordica/article/view/543