Queerful Lovers and Hateful Others
Review of Jin Haritaworn, Queer Lovers and Hateful Others: Regenerating Violent Times and Places. (2015).
Keywords:
review, Jin Haritaworn, queer
Abstract
Preview of the text:
Queer lovers and hateful others er en tankevækkende, vigtig og højst aktuel bog om de måder, hvor på queers – der i bogen er en paraplybetegnelse for LGBTQ+ identiteter – er blevet "a lovely sight in the shadow of the hateful Other" (Haritaworn 2015, 26). Queers er i dag værdige for beskyttelse af staten og samfundet, netop fordi de indgår i en racialiseret (national) økonomi, hvor queers iscenesættes som under trussel fra den racialiserede Anden, i særdeles den nye "folkedjævel": den "patriarkalske og homofobiske muslim". Queers inviteres derfor i stigende grad ind i det nationale selskab gennem en racialiseret logik om "the west", som er truet af "the rest", der vedvarende gennemspilles i moralske panikker. Hvide queers bliver dermed symbolske grænsevagter, der konstituerer fællesskabets grænser.
Downloads
Download data is not yet available.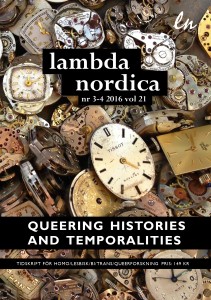 How to Cite
Nebling Petersen, M. (2018). Queerful Lovers and Hateful Others: Review of Jin Haritaworn, Queer Lovers and Hateful Others: Regenerating Violent Times and Places. (2015). Lambda Nordica, 21(3-4), 153-157. Retrieved from https://www.lambdanordica.org/index.php/lambdanordica/article/view/531