"Chulito struggled to not cross the pato line"
Representationer av skevt pojkskap i amerikansk latinolitteratur
Keywords:
Representation, pojkskap, queer fenomenologi, autenticitet, ungdomslitteratur, identitetsskapande, latino literature
Abstract
Syftet med artikeln är att undersöka representationer av latinopojkar i ameri- kanska romaner, författade av amerikanska latinos. Särskild fokus läggs på hur gränserna för de maskuliniteter som idealiseras utmanas och hur pojkskap således skevas. Materialet består av de två romanerna Chulito och Aristotle and Dante dis- cover the secrets of the universe, som båda är författade av amerikanska latinos med amerikanska latinopojkar som protagonister. Med utgångspunkt i bland annat Sara Ahmeds queera fenomenologi studerar jag hur olika livslinjer reproduceras eller bryts, hur gränsdragningar mellan olika kategorier störs och skevas och hur olika mellanpositioner (inbetweenness) skapar skeva subjekt. Normer kring pojk- skap utmanas på en mängd olika sätt i romanerna och i artikeln läggs särskild fokus vid hur sexualitet utforskas och förhandlas i relation till maskulinitetsideal. I artikeln studeras även hur huvudkaraktärernas komma ut-processer framställs, samt vilka reaktioner de väcker bland övriga karaktärer. Slutligen analyseras representationer av föräldrarna och deras betydelse för pojkarnas självacceptans och omorientering och artikeln argumenterar för att föräldrarna bidrar till en normalisering som minskar eller upplöser pojkarnas upplevelse av att vara skeva.
Downloads
Download data is not yet available.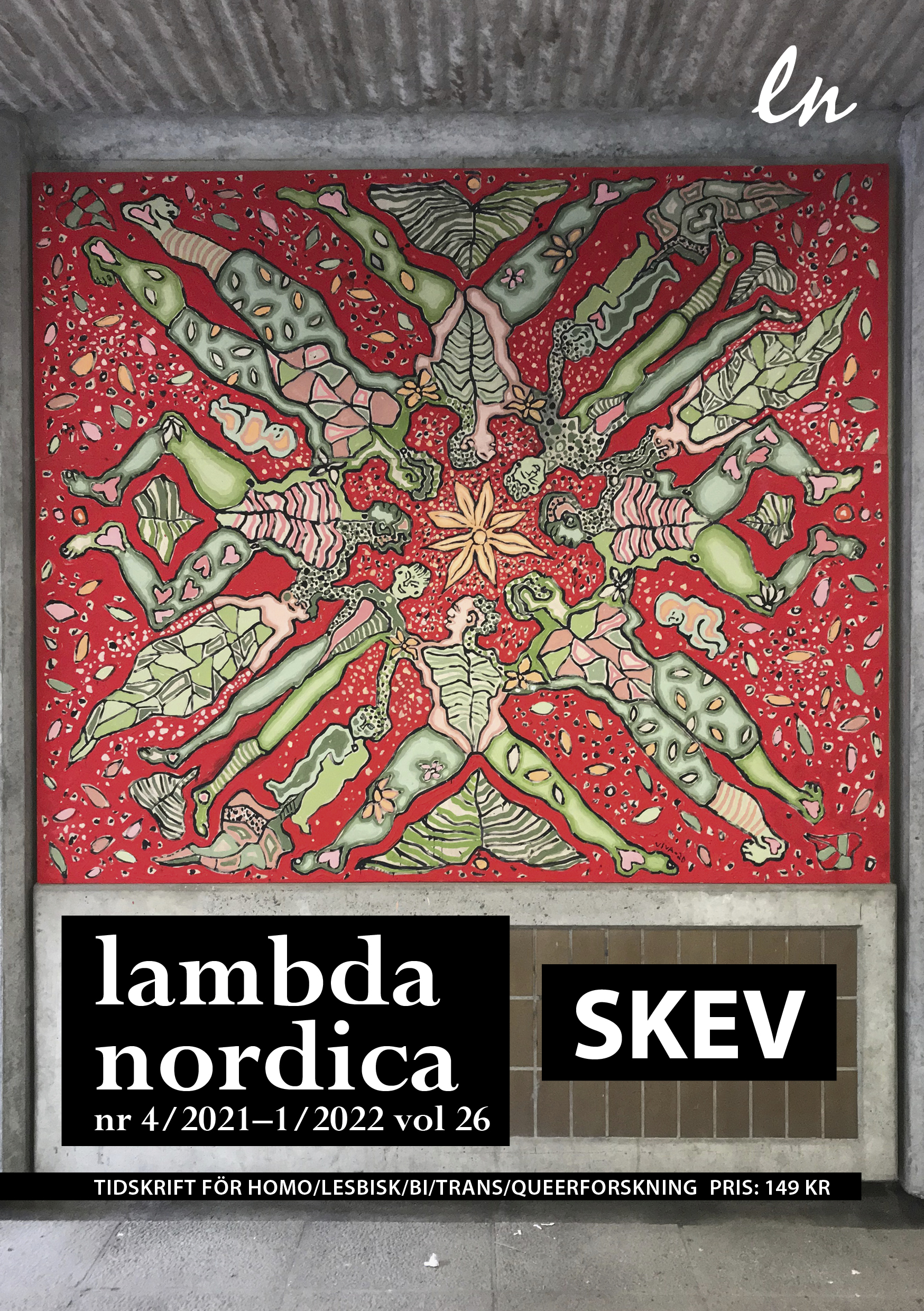 How to Cite
Pérez Aronsson, F. (2022). "Chulito struggled to not cross the pato line" : Representationer av skevt pojkskap i amerikansk latinolitteratur. Lambda Nordica, 26(4-1), 74-98. https://doi.org/10.34041/ln.v26.764
Copyright (c) 2022 Fanny Pérez Aronsson
This work is licensed under a Creative Commons Attribution-NoDerivatives 4.0 International License.