"Hip to be crip?"
Om cripteori, sexualitet och personer med intellektuell funktionsnedsättning
Abstract
På senare tid har cripteoretiska begrepp och perspektiv börjat användas av både aktivister och forskare som studerar funktionsnedsättningar, framförallt i USA och England men likaså i Sverige. Begreppet "crip" har paralleller till queer, som numera är så välanvänt och bekant i Sverige att även politiker säger sig vara "queer". Båda handlar om dialektiken mellan det "normala" och det "onormala", med en viss skillnad på fokus. Utifrån queerperspektiv granskas dialektiken på sexualitetens område och med hjälp av cripteori fokuseras "funktionsnedsatt" kontra "funktionsfullkomlig". Båda orden är från början aggressiva, poängterar cripteoretikern Robert McRuer, och har använts som skällsord och negativa tillmälen. Men genom att ta makten över ordet och göra det till sitt eget kan perspektivet vändas, och man kan omfamna sitt stigma. Då cripperspektivet hittills främst använts vid fysiska funktionsnedsättningar avser följande artikel att granska dess tillämpbarhet på sexualitet och intellektuell funktionsnedsättning. Kan cripperspektiv oproblematiskt användas även inom detta område?
Downloads
Download data is not yet available.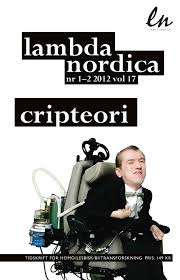 How to Cite
Löfgren-Mårtenson, L. (1). "Hip to be crip?": Om cripteori, sexualitet och personer med intellektuell funktionsnedsättning. Lambda Nordica, 17(1-2), 53-76. https://doi.org/10.34041/ln.v17.647