Sexualitet, norm och "queerness" i en brittisk överklassfamilj runt sekelskiftet 1900
Review of Simon Goldhill, A Very Queer Family Indeed: Sex, Religion, and the Bensons in Victorian Britain (2016).
Keywords:
review, simon goldhill
Abstract
Preview of the text:
Tolstoy konstaterar i ett berömt yttrande: "Alla lyckliga famil­jer liknar varandra, varje olycklig familj är olycklig på sitt sätt." Detta gäller i hög grad familjen Benson i det senviktorianska England. Utåt var fasaden oklanderlig. Fadern, Edward White Benson, gjorde en ly­ sande karriär och slutade som ärkebiskop av Canterbury och drottning Victorias förtrogne. Hans hustru Minnie ansågs av premiärministern Gladstone vara den intelligentaste kvinnan i England. Paret ck sex barn varav två dog i unga år. De tre överlevande sönerna Arthur, Fred (mera känd som E. F. Benson) och Hugh blev alla framgångsrika författare. Arthur skrev till exempel texten till Elgars "Land of Hope and Glory" och flera av hans romaner såldes i över hundratusen exemplar, medan Freds debutroman kom ut i tolv upplagor. Deras syster Maggie var även hon författare och Englands första kvinnliga egyptolog.
Downloads
Download data is not yet available.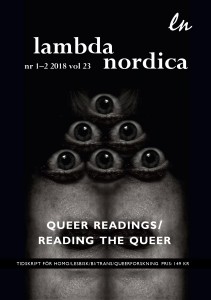 How to Cite
Spånberg, S.-J. (2018). Sexualitet, norm och "queerness" i en brittisk överklassfamilj runt sekelskiftet 1900: Review of Simon Goldhill, A Very Queer Family Indeed: Sex, Religion, and the Bensons in Victorian Britain (2016). Lambda Nordica, 23(1-2), 210-213. Retrieved from https://www.lambdanordica.org/index.php/lambdanordica/article/view/492