Queer Romanian Literature
A Selection of Gay and Lesbian Characters from the 20th Century to the Present
Keywords:
queer, Romanian gay, lesbian and bisexual literature, LGBTI memory
Abstract
Romanian literary accounts of queer characters are scarce, and the few critical texts that do address them often dismiss the discourses revolving around the author's or the character's sexuality. e Romanian academic community still expresses virtually no interest in studying queer aspects of the humanities, and there are a very limited number of articles written on this theme by Romanian scholars. Even these were mostly published abroad, not in Romania. Therefore, I aim to present and analyze a series of literary works beginning with Panait Istrati's novel, Adolescenta lui Adrian Zogra [Adrian Zogra 's Adolescence] to contemporary writings by Ioana Baetica Morpurgo, Cristina Boncea, Ana Maria Sandu, Alina Mungiu-Pippidi, and others. I will discuss the mechanisms through which queer stories are constructed and how the stereotypes concerning non-normative sexualities function inside the texts, as these are mainly authored by heterosexual persons. The memory-related value of the primary sources is of great importance to this paper. At the same time, the literary characters, which I encountered in my research can be read from a queer perspective (in some cases, their sexuality is only presented in the subtext). Through the interplay of these fragments – of lives and of fictions – I aim to nuance the local expressions of queerness. is analysis is strictly connected to the socio-political and legal contexts of our local history and will be conducted using a feminist approach and perspectives from the eld of literary studies. 
Keywords: queer, Romanian gay, lesbian and bisexual literature, LGBTI+ memory
Downloads
Download data is not yet available.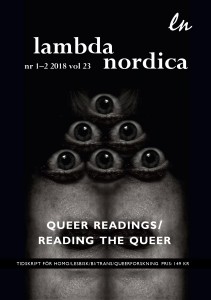 How to Cite
Dima, R. (2018). Queer Romanian Literature: A Selection of Gay and Lesbian Characters from the 20th Century to the Present. Lambda Nordica, 23(1-2), 139-164. Retrieved from https://www.lambdanordica.org/index.php/lambdanordica/article/view/487