Murderous Conditions and LTQ+ POC Decolonial, AntiCapitalist and Anti-Misogyny <em>Life</em> Imaginings in France
Keywords:
coloniality, racism, segregationality, Islamophobia, misogyny
Abstract
This essay addresses some deadly inter-related conditions that lesbians, trans, queers, and other genderly and sexually anormative subjects of color, and ultimately all subaltern subjects, are now facing in France and elsewhere in Europe. It considers effects of coloniality, racism, segregationality, Islamophobia, police brutality, misogyny, the current capitalist crisis, including expanded privatization, the Security State, war and refugees, and the rise of right-wing and homonationalistwhite gay spokespersons therein. The essay extensively engages with current radically critical, decolonial, anti-capitalist, anti-misogyny, life affirming analyses and practices by LTQ POC+ that open up new understandings of the issues of our times, before providing some concluding remarks.
Downloads
Download data is not yet available.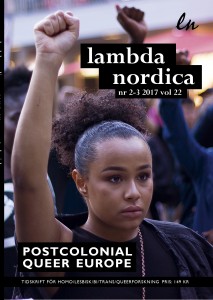 How to Cite
Bacchetta, P. (2018). Murderous Conditions and LTQ+ POC Decolonial, AntiCapitalist and Anti-Misogyny <em>Life</em&gt; Imaginings in France. Lambda Nordica, 22(2-3), 153-173. Retrieved from http://www.lambdanordica.org/index.php/lambdanordica/article/view/518